By Pamela Hogan & Connie Shulman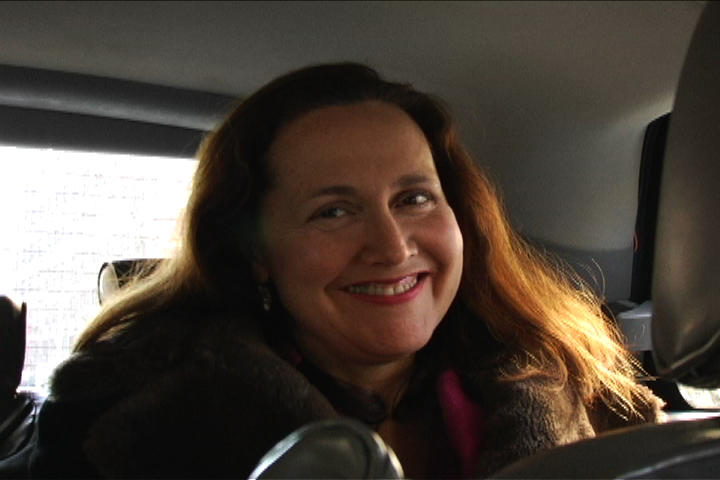 What would you do if you started to disappear? At the age of 45, our friend Laury Sacks, an ebullient actress and the doting mother of two small children, had a reputation as the quickest wit in the room. At the age of 46, she began forgetting words. Soon she could barely speak.
Our film, Looks Like Laury Sounds Like Laury, captures one year in the long, but short journey of frontotemporal dementia, a little-understood disease that strikes people in the prime of life.
But back to Laury. She lived on the Upper Westside in Manhattan with her husband, Eric, and their two young children. She had been an actress/writer for many years prior to having kids, and then devoted her time to being a mom and writing a memoir about her unconventional childhood. But a memoir requires memories, and when gregarious Laury suddenly became quiet, she began to have difficulty accessing hers.
The changes were subtle at first. She asked Pam to meet for coffee one day, but it was surprisingly difficult to engage her in conversation. To the question "What's going on, am I boring you?" she answered prophetically, "No! I'm just in my head. " Then she offered a reassuring hug – which wasn't reassuring at all.
Everyone misread the cues: "We're not as close as we used to be;" "She must be mad at me;" "Maybe she's depressed." As Laury's friend Nelsie said, "I don't think it ever occurred to us she couldn't access language, that she was trapped in her brain and couldn't access it."
But Laury was an actress, and she was acting the hell out of her new part – a woman disappearing.
The film came about when Connie suggested making a film to capture her mysterious new life – and Laury jumped at the idea. It is the profoundly personal portrait of a woman who is facing the unthinkable. As she says straight to camera the first day of filming: "What do I hope for? I hope for – the truth!" Following Laury through her day to day life over the course of a year, conversations begin to resemble the famous Abbott and Costello comedy sketch "Who's on First?" as Laury gives rapid-fire "Yes!" "No!" "No-Yes!" answers, and confusion reigns. Her husband Eric senses that not only does she grasp the absurdity of the situation, but "at some level she thinks its funny."
We started filming during a hopeful period, with no idea of what lay ahead.
Laury was always a storyteller and she wanted to tell her last story herself. This is her story.
to view clips -
https://vimeo.com/othernoises/lauryclipdifferent
https://vimeo.com/75877681